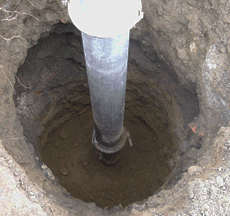 Installation holes are needed for poles, signs, posts, and more. The holes needed are of varying diameters and depths. These holes serve as foundations to support the structure that will be installed.
Conventional piling hole excavation methods include using a backhoe. This is a kind of heavy equipment that uses a digging bucket on a tractor to excavate the soil. The digging bucket is very big and it usually excavates more soil than needed. This results in backfilling that needs to be done after excavation. This is time consuming and adds to the expense. Hydro excavation is able to eliminate this issue by cutting through soil accurately so only the right amount of soil is hauled away.
Manual digging is a more common method for creating piling holes than the use of a backhoe. Laborers manually dig through soil by using a shovel or post hole digger. This happens at a slow rate, since it is done by actual people and not machines. Because of the job's intensity, labor costs are higher as well. Manual digging is a bit more precise than a backhoe but it can still damage surrounding soil and underground equipment.
Hydro excavation can do the job of piling holes excavation in a more accurate and faster manner. To check hydro excavation companies in your area, enter your zip code in the search bar to the left.
Hydro Excavation for Piling Hole Excavation
Hydro excavation involves highly pressurized water and air vacuum to dig and haul soil. The water is pressurized enough to cut through soil and break it apart. Then, the air vacuum hauls the soil and transfers it to a debris tank. This is a safe way to dig because it does not involve machinery and chemicals.
The hydro excavation process only involves water and air. The precision provided by the pressurized water makes sure that only the right amount of soil is disturbed and hauled away in piling hole jobs. This ensures that there will be no need for repairs or restoration and avoids additional costs. This also saves time to get the job done faster.
The earlier methods for excavation involved heavy equipment or shovel digging. These two methods are both dangerous and too labor intensive. Also, these methods are not as accurate as hydro excavation.
The whole process of hydro excavation is simply more efficient and more cost effective than traditional methods. The job gets done fast and efficiently with minimum effort. The precise control of the pressurized water creates the piling holes with a minimum of difficulty.
The hydro excavation process allows for a more accurate job to be done. This benefits the laborers, the customers and the company. Good service always makes everybody happy. You can find quality hydro excavation companies near you by entering your zip code in our search bar to the left.